Grace celebrated its sesquicentennial in 2017
What a marvelous milestone! This sacred place means so much to so many people, and it has for 150 years. 
Firsts for Women of Grace
By Catherine Turnbull
At the beginning of this year's ten o'clock Commitment Sunday Service, all the people standing on the altar—Acolyte, Eucharistic Ministers, Lectors, and Rector— were women.  I once remarked that in my short lifetime the fact of an altar full of women had gone from unheard of, to undesirable, through unlikely and all the way to unremarkable.  I was curious to do a little delving into Grace Church's history, to see when certain roles that had been closed to women were opened so we, the church, could be more whole.
In the documents I read, women are first mentioned by name after the church had settled on its current site and was being outfitted for proper worship.  In 1899, Mrs. Saylor gave a memorial window, Mrs. K.C. Barnes provided an altar and reredos (the ornamental wall behind it) of quartered oak and Miss Alice Crawford gave a brass altar cross.  Also in 1899, Mrs. Morgan of Chicago "donated a Vocalion organ and paid for adding a transept to the church…with a window therein."  She also gave the church a carved lectern, a prayer desk and two oak chairs.
At the Annual meeting of 1911 (a season of discontent with the rector that resulted in parishioners refusing to pay their pledges so the offending fellow could not be paid!) there were 43 voting members present.  Thirty-two of them were women.  The business of the meeting went as follows:  Parish members heard reports from the Women's Guild, the Women's Auxiliary, and the Vestry Treasurer; then ballots were cast for new Vestry members.  Seven candidates were elected, all of them men.
Ten years later, at the first Annual Meeting following the passing of the 19th Amendment, the first female parishioners were elected to Vestry–Mrs. E.L. Thirlby, Mrs. F.D. Varnum, and Mrs. Bertha Soderberg.  Those names continue to appear in Vestry reports into the 1930s but by the 1940s through the 1960s the Vestry reverted to being an all-male body. In those years, though, the way women worked for the church was shifting: around 1964, Mrs. Soderberg produced a historical booklet in which she wrote, "In 1958 Rev. Foley recommended changes in the Guild organization and the result was the forming of a new guild and changing the names.  The present guild of 'old timers' took the name of St. Elizabeth. An afternoon guild was instituted for those 'younger' women and was called St. Catherine's and a group of working women and mothers not able to attend afternoon meetings was formed and called St. Margaret's.
In 1976, the names of women reappear on the Vestry when Margaret Dunn was elected as the first female Senior Warden.  Frances Spedding was elected Senior Warden in 1978.  It is not perfectly clear who was the first female Lector at Grace Church. One document lists Margaret Dunn, but a Record-Eagle clipping gives this designation to Willa Mikowski, who was also the first woman ordained as deacon and then priest in our Diocese (1982).  Ann Mapes was the first female Education for Ministry (EfM) instructor; Maxcie Latimer was the first woman to receive the Bishop's Cross, in addition to being the first woman to be Church School Secretary.
In this 21st century, I wonder whether we have improved at inviting people into our ministries based on skill, interest, or talent alone, and not on misconceptions.  I could just as well have spent my time looking for men entering into roles traditionally reserved for women (Altar Guild, for instance?) as for the other way around.  I wonder who might be in our midst now, equipped to serve and sorely needed, but by accident overlooked?
Jubilee House – Built on God's Love
By Glenda Andrews
Jubilee House Director
Jubilee – just the word brings joy to your heart and a smile to your face. When you put this word alongside Bible references where debts are forgiven, you start to understand what Jubilee Ministries are all about here at Grace.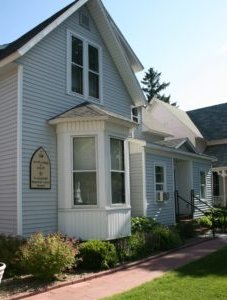 In 2004 our sanctuary was too small, so Grace decided to build a larger one. Echoing similar decisions made in the past, Grace chose to stay in the center of town where the needs were the greatest, serving the needs of the poor and those living on the edges of society. The Rev. Ed Emenheiser, rector at that time, felt there should not be a new sanctuary unless there was a new outreach ministry as well. Research was done to find out what unmet needs were in our city. We discovered that a daytime shelter that could provide hot showers and free laundry was needed, and so Jubilee House was formed.
From these small beginnings in 2006, Jubilee House has grown to where it is today. It is a direct and dynamic link between our theology and our ethics, that being the talk of our faith is the walk of our faith. The Bible calls us to do justice, love mercy, and walk humbly with God, and to respond to the gospel call to feed the hungry, clothe the naked, and care of the sick. For when we do for the least of these among us, we do for Christ. This is the core of our faith. This ministry is rooted in honoring God's presence in each human being, and believing that each person has value no matter their life's circumstances. When we offer our services, we are offering them to God. When people walk lighter, when we can ease their pain, we are also giving them God's love to help heal their wounded spirits and broken hearts. In turn, we heal ourselves as well.
In this house, an average of 45 people a day come to find shelter from their storms. This is where they can find rest and peace, and have daily needs met. They experience God's love from the volunteers who give of their time and hearts to these children of God. God's love is strong and present when a loved one is remembered and a "family community" can come to mourn.
My prayer is that this ministry, as an extension of Grace Church, will continue to grow in faith where all people are seen as equals—not only in God's eyes, but also in ours. We do not see, treat, or judge others based on the clothes they wear, their background, their financial situation, their race, creed, or religion. May God give us eyes to see them as brothers and sisters, God's own.
Food Pantry—A Jubilee Ministry alleviating food insecurity
By Nancy Johnson
Food Pantry Coordinator
People in the Grand Traverse area are hungry, often very hungry. In fact, one out of four people in this region experience food insecurity. Food security, defined by the USDA, "means access by all people at all times to enough food for an active, healthy life." This means that so many of our neighbors go to bed at night after missing one or more meals that day due to no food. They also worry where they can obtain food for the next day, and the days after that.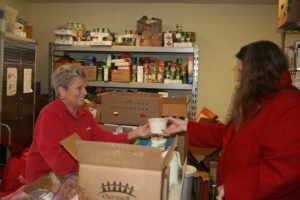 Many years ago, a few Grace Church parishioners started to address this hunger by providing food in the undercroft of the church. In 1976, Grace established the first food storage program in Traverse City, which was called The Pantry Shelf and was directed by Fern and Ralph Orcutt. Over time, it has expanded and moved a few times – from two different locations in the church's basement to a small room in Jubilee House to its current home. An extensive renovation of the garage behind Grace, made possible by Ray and Frances Spedding, facilitated this move in 2014.
In the past, we provided clients with a bag or two of basic groceries, pre-filled by our volunteers. But now we give a flexible shopping experience, providing a variety of emergency food options for those in need. We are an active member of the five-county Northwest Food Coalition, a justice-minded group of food pantries, baby pantries, and meal sites. We get weekly deliveries from Food Rescue, a program of Goodwill Northern Michigan, which provides the pantry with tremendous amounts of produce, meat, bread, and other items. Partner churches supply us with food and cash donations, and we participate in local food drives. Grace parishioners have also been generous through the years by donating food as well as cash to buy needed items – all tremendously appreciated. Because of these gifts, we can occasionally offer the "fixings" for an extra dinner to our clients beyond their normal allotment of food. What fun, and what a blessing!
What is my prayer for our future? I pray that Grace will continue this vital ministry by providing nutritious food to our neighbors in need, and that those who live in the Grand Traverse area will become more secure in their food accessibility. May a family never go hungry again!
Community Lunch – A Jubilee Ministry feeding body and soul
By Kate Wood
Community Lunch Coordinator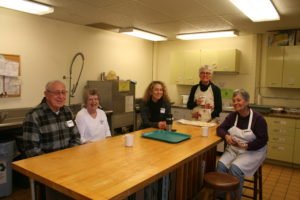 This is a simple, concrete ministry that fulfills the gospel call to feed and care for those in need. It also nourishes body and soul, feeding God's people both in the giving and the receiving!
As with many things at Grace Church, the idea of serving a free meal to our neighbors in need came out of a discussion among parishioners. In 1991, Chris Black organized and served eighteen "guests of Grace" at the inaugural meal. This is believed to be the first such offering in Traverse City, and now several churches serve community meals throughout the week. Grace serves lunch every Friday from 12 noon to 1 pm. This food ministry is funded by generous donations of community and parish members.
Community Lunch is one of Grace's three Jubilee Ministries – the Food Pantry and Jubilee House being the other two. There are over 600 Jubilee Ministry Centers in The Episcopal Church, a national program that encourages a ministry of joint discipleship with poor and oppressed people to meet basic human needs and to build a just society. The national program started in 1983, but Grace did not become an official Jubilee Ministry Center until 2005.
Over the years, Community Lunch has had a legion of volunteer cooks, dishwashers, and servers. We now average about fifty people per meal. Those served include struggling neighbors, elderly people on fixed incomes, and the homeless. A nourishing meal served on the parish's "china" gives a sense of welcome to those eating and a focus on hospitality for the volunteers that serve.
All the team members of this ministry say that they receive far more in blessings and joy serving and sharing than they ever thought would be possible when they first began. This is a ministry that has had generations of Grace families participate due to its episodic but constant presence.
Many of you may be aware that Community Lunch is also served at Grace every Sunday at 1 pm, hosted by a group of dedicated volunteers from area churches, who have been faithful in their service to this ministry.
It is our hope that Community Lunch continues as part of Grace Church's long legacy of faith, allowing us to add life to the community we live in. If you are interested in learning more about this ministry and how you might help, contact me at katew40@charter.net or 231-941-5785.
Growth in the new century
After serving almost three years, The Rev. A. Worger-Slade resigned in December 1915 to become rector of Holy Trinity, Benton Harbor. Regular Sunday services were maintained by lay readers and supply clergy in the interim. The Rev. John K. Coolidge, who had assisted during this transition, took official charge of Grace during the winter of 1917 until November 1920, at the salary of $75 a month.
The Rev. Merton W. Ross of Chicago became rector July 1921. He helped start a new mission in Cadillac under the name of St. Barnabas. Rev. Ross was also very active in the Social Service Department of the diocese. This department worked to spread the gospel throughout the rural areas of Northern Michigan, and had hoped to establish a Christian Social Service League in every community, "with privilege of membership open to all who believe in the ethical principles of the Sermon on the Mount."
Grace rented their rectory for a while but then sold it to make plans for major capital improvements. The parish obtained the necessary financing with diocesan assistance and set to work.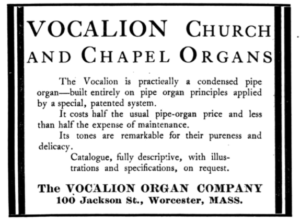 The supporting timbers in the basement, which had decayed significantly, were reinforced, and the undercroft was converted into a parish hall with a fully equipped kitchen and choir lockers. Bishop John N. McCormick officiated on Sunday, September 9, 1923, at the reopening service. The proceedings from the diocesan convention the following year noted: "Grace Church, Traverse City, at a cost of about $6,000, has been entirely renovated and almost reconstructed."
The first few decades of the new century also brought physical improvements to the worship space, many of which were donated by parishioners. The women of Grace, especially the Women's Auxiliary and the Willing Workers, a young women's society, gave time to projects and gifts such as memorial windows, the altar and reredos, a carved lectern, and a prayer desk. This also included a Vocalion organ, a compact model which operated on pressure instead of suction, given to the parish by the wife of James Morgan, who helped finance the moving of the church from State Street. The organ had to be pumped by hand, so boys of the church families took turns sitting behind it and working hard to keep it going during the service.
The Rev. F. P. O. Reed of St. Louis became rector in September 1925. A significant contribution given to the life of the parish during his tenure was the organization of a Men's Club. Fr. Reed stayed about four years and then resigned in April 1929.
Grace reaps and sows
At the turn of the twentieth century, Grace found itself able to share in the missionary zeal that was instrumental in its genesis decades earlier. The seeds planted by Episcopalian forebears had sprouted and matured, and Grace was ready to return the blessings, to share in God's unfolding work.
The Rev. Charles T. Stout, who came to serve in 1898, built upon the missionary work started by his predecessors. In addition to his call at Grace, Fr. Stout was placed in charge of new plants in East Jordan, Central Lake, Charlevoix, and others. The Board of Missions reported at the diocesan convention in 1901: "Grace Church . . . is, yet in a very real and vital sense, a part of the Missionary work of the Diocese. It is one of the most important centers of Church work in the Northern part of the Diocese."
After several years of faithful leadership, Fr. Stout ended his service at Grace in November 1906. The Rev. Charles D. Atwell of Ishpeming accepted a call in 1907. Fr. Atwell also held services and celebrated Holy Communion with neighboring churches and parishes who needed support, including Thompsonville and Elk Rapids. The Atwells were particularly interested in working with youth, and so through Fr. Atwell's efforts a hall was rented downtown and furnished with gifts from individuals and from various church organizations that used it. A rectory on Washington Street was also purchased around this time for $2,300, but an additional $300 had to be spent to make it large enough for the Atwell family.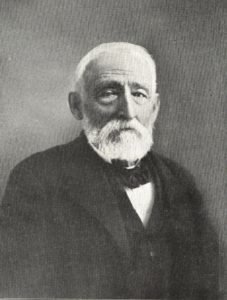 1908 brought the death of longtime warden Elvin L. Sprague, who had been active at Grace from its very beginning, and who more recently provided an active role leading services as lay reader while Grace's rector shepherded sister parishes. Bishop John N. McCormick honored Sprague's lifetime of service during his address to the convention that year: "We take this opportunity to put on record our appreciation of his patience, perseverance, and Christian fidelity."
Another rector change came in December 1910, when The Rev. David Wellington Curran from Dallas, Texas, became rector of Grace Church. Due to lack of funds and parishioners, Fr. Curran was asked for his resignation less than two years later. In the interim, The Rev. R. H. Mize held summer services.
The Rev. A. Worger-Slade was called in January 1913 from the Diocese of Kansas, and gave missionary services at St. Paul's, Elk Rapids, and visited Honor, Thompsonville, and other adjacent points. Through these efforts, the diocese envisioned a bright future: "The Board hopes that Traverse City may become a center from which missionary operations will reach out to the various points nearby in that part of the Diocese, and that such assistance may be given the Rector, that he may be able to continue his work."
Grace on the move
The 1880s were marked by an initial peak in enthusiasm under the leadership of Rev. Joseph S. Large of Big Rapids, who saw Grace's communicant list double in size.
However, things took a turn for the worse by 1886 as attendance dropped dramatically and the parish suffered financial problems. Bishop George D. Gillespie visited Grace on January 31, 1886, and reported: "The outlook here is not encouraging, removals have thinned the members and more decreased the strength." Late that year, he noted that Rev. Large, after more than seven years of service, had resigned. He added: "There is a painful indifference that keeps the church closed and has even dismissed the Sunday School."
Over the next couple of years, two priests from St. Paul's, Elk Rapids—Rev. Luther Pardee and Rev. S. Chipman Thrall—visited Grace and tried unsuccessfully to resurrect the dormant parish. The situation worsened, and in 1890, Grace came under charge of the General Missionary.
Eventually lay interest in the congregation resurfaced, particularly under the leadership of longtime warden Elvin L. Sprague. The population of Traverse City had increased significantly, and soon monthly worship services were held with lay readings given on other Sundays. Bishop Gillespie noted after a visit to Grace on February 15, 1891: "Would the Parish catch the spirit of the place, it would soon revive." The passion for Christian witness was reignited, leading to the calling of Rev. Albert E. Wells as rector. Bishop Gillespie announced to the diocesan convention on June 3, 1893: "Traverse City, after long vacancy, has now the leader under whom they may grow if they will."
Around this time, Grace's location on State Street became no longer ideal. Bishop Gillespie pointed to this need after a visit on November 19, 1893: "The surroundings of the church render removal necessary and in my judgment, a good site with the present chapel, or better, a new church on it is the only hope of giving us in this growing city a worthy Parish."
Grace acquired a larger lot at the corner of Washington Street and Boardman Avenue, where our current church now stands. Perry Hannah gave the parish $1,200 for the site on State Street, this being the exact price asked by the Ladies' Library Association for the new lot. In November 1897, after numerous delays, the church was moved by horse on its wooden foundation to its new home.
Grace reopened in January 1898. Other building improvements, including new windows to allow more light into the building, were also made. Bishop Gillespie celebrated this transformation during his address at the diocesan convention in 1899: "Traverse City having last year seen the Church placed on the lot for some time held, the interior has lost the gloom of lack of light by day and night, has been made attractive with Chancel improvements, and the Parish is coming up to what so flourishing a city demands."
Grace is born
Rev. Albert C. Lewis, rector of St. Paul's, helped establish the first Episcopal parish in Traverse City. His occasional trips from Elk Rapids led to more frequent visits when the response to his work bore fruit.
Grace officially was born on August 12, 1873, when articles of agreement were signed by John Frank Grant, E. L. Sprague, L. O. Saylor, S. S. Wright, Homer P. Daw, and F. J. DeNeven and the parish was given its name. On September 15, a meeting was called by Rev. Lewis at the home of L. O. Saylor and these signers and Frank L. Furbish were elected as Grace's first vestry with E. L. Sprague as senior warden.
For the next three years, Grace did without its own rector and survived on monthly services conducted in rented spaces by Rev. Lewis. One location was called Campbell House, now the Park Place Hotel, and another was Leach's Hall, which was on the southwest corner of Park and Front Streets.
Grace's first confirmation occurred in May 1875 when Bishop George D. Gillespie, first bishop of the newly formed Diocese of Western Michigan, visited Traverse City. Later in December, Bishop Gillespie held services in the Congregational Church, where he baptized four adults and confirmed six. He also met with the vestry and discussed the possibility of building a chapel. In the diocesan convention minutes, Bishop Gillespie reported: "The Rev. A. C. Lewis officiates here monthly. The Mission is in that condition which results from having no local habitation. The church is not properly presented to the community. I hope her people will feel this, and by erecting a chapel, place her in her true position."
Under Rev. Lewis' direction, the church canvassed the community to gauge potential support. Early in 1876, the people of Grace raised money to build on a lot on State Street, 33 feet wide, that had been donated by Perry Hannah (an AT&T building across from Max's Service now sits on that lot). The project broke ground in July; the contract was given to J. W. Hilton, who completed it for $1,965.00. Bishop Gillespie returned and consecrated the new chapel on November 12, 1876, and was especially pleased that "a robing room and not a closet" was a feature.
The first clergyperson called to Grace was Rev. William H. Sparling, deacon, who administered while Rev. Lewis assisted with the elements. At the diocesan annual convention held at Trinity Church, Niles, on May 31, 1877, the parish of Grace Church, Traverse City, was formally admitted to the diocese.
Pioneer Clergy
Michigan's population expanded in the mid-1800's. The population in 1830 was 31,639, but by 1840 it had jumped to over 200,000. To provide spiritual support, the Diocese of Michigan (there was only one diocese until 1875) sought to establish mission stations in the western and northern regions of the state.
Clergy shortage and financial constraints were serious concerns for the young diocese, but the sending of pioneer clergy continued up the western coast of Lake Michigan. Bishop Samuel A. McCoskry was concerned but hopeful: "In the midst of all these trials God has not deserted us. The Church is gradually extending and additions are made, of such, I hope, as shall be saved." In September 1866, Bishop McCoskry sent Rev. Marcus Lane to be the first rector of St. Paul's in Muskegon. During his first year, Rev. Lane held services in other coastal towns, including Pentwater and Traverse City.
Because of the rapid increase in population in the Grand Traverse region due to the lumber industry, the diocesan Missionary Committee allocated funds to support a missionary in Traverse City but none was available. Instead, itinerant priests from neighboring mission stations were utilized.
Nearby in Elk Rapids, an Episcopal parish was founded in 1867 and reorganized two years later under the name of St. Paul's. Newspaper records state that missionary priests from Elk Rapids would travel by boat to various points along Grand Traverse Bay to hold occasional worship services with Episcopalians residing there. Rev. Albert C. Lewis, one early priest from St. Paul's, came to Traverse City and supported the fledgling faith community there for several years.
We are grateful for early pioneers like Bishop McCoskry and Rev. Lane, who planted seeds of faith, and for Rev. Lewis and others who watered them. Praise God who made them grow!
Begin at the Beginning
This year we're celebrating our sesquicentennial, but there were faithful Episcopalians in Traverse City years before Grace Church was even born.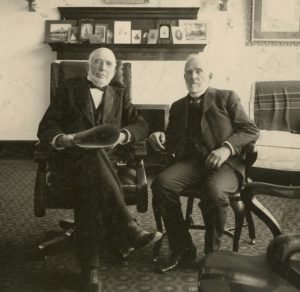 Albert Tracy Lay, longtime business partner of Perry Hannah, was a devout Episcopalian and spent much time here in the early 1850s supervising his lumber business. He and Hannah alternated in the management of their affairs here and back in Chicago where their firm was headquartered.
Around 1852, assisted by a civil engineer named Whelpley, Lay was instrumental in laying out the plat map for the town of Traverse City. He also helped secure a postal route for the new town, originally naming it Grand Traverse City (to distinguish it from the Grand Traverse post office on Old Mission).
Lay was a man of faith, an advocate of Sunday school, and was instrumental in giving lay readings for the spiritual benefit of the people of the area before a clergyperson of any denomination had settled here. Catherine, his wife, was a devout Episcopalian as well, the daughter of a priest from New York.
Details are thin, but a family by the name of Churchill arrived in the harbor in the summer of 1853. Mrs. Churchill was taken ashore dangerously ill, living only a few days. At her funeral, Lay read the Episcopal burial service at the grave, the second burial at which religious services were held in Traverse City.
Lay eventually chose the Chicago area as his permanent home, and Hannah remained here in Traverse City.
A biographical piece written about Lay in 1912, when he was eighty-six, spoke of his character: "His contributions to worthy charities and benevolences have been liberal and invariably unostentatious, and he is one of whom it may justly be said that he would do good by stealth and blush to find it fame."
We thank God for the faith and testimony of Albert Tracy Lay, one of our earliest Episcopalian forebears.