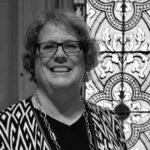 by Elizabeth Black, Junior Warden
I have to say that I've always been proud to be an Episcopalian.  I was born into the church and baptized before I had any say in the matter. But I've always been a fierce advocate of equality.  Perhaps it comes from being the middle of three girls. We were always battling each other to make sure we each got our fair share of the back seat, the batch of brownies, or the clothing budget.  But perhaps my advocacy came from my Episcopal upbringing. From its beginning our church has been about democratic representation:
·         1789 – A Philadelphia meeting unified all United States Episcopalians into a single church, adopting a constitution and a set of canon laws. They were composed of two legislative houses, and modeled after the U.S. Congress, with checks and balances as well.  
Being a child in the 60's meant I constantly heard about beatings, riots, and assassinations.  "White bread" Traverse City, as I called it, did not expose me to much diversity. But my travels with my parents to segregated Detroit, and to Texas where my grandmother's wealthy friend had uniformed "Help," had given me enough life experience to know that not everyone wanted us to live as though "all men are created equal."  But my church had a history of equality firsts. Sermons and actions continued to model this dictum and I saw that we practiced what we preached; God loves us all equally.
·         1804 – Absalom Jones is ordained the first black priest in The Episcopal Church.
As I began to find my voice at about 9 or 10 years old (I was a very sassy fifth grader), I began to honestly claim the beliefs as my own, feeling a genuine pride of the denomination that fate had brought me to. I began to look inward and examine what I believed. I watched young men go to war and women fight for our rights, so I continued to question what I was "buying into."  I wanted to be on the right side of all the conflicts I saw on the news and heard on the radio. And my church did not let me down. I knew we believed in equality because I lived it. I heard the messages weekly; love our neighbors, pray for peace, remember all the people at war – from both sides.
·         EPF (The Episcopal Peace Fellowship) began as The Episcopal Pacifist Fellowship on November 11, 1939, Armistice Day.
I rooted for Billie Jean King with vehemence as she battled Bobby Riggs to show that women were equally capable athletes.  And when she won, I wanted to gloat to the sixth grade boys with a completely clear sense of advocacy. I knew we were equal at my church.  I saw equality at the altar. I was an acolyte, and many of my friends at school went to churches where only boys could serve in this role. I served with female deacons, and saw women ordained when I was still a young woman. And I heard the Episcopal Church, my church, make national news for taking this radical risk of treating women as equals to men.  
·         1970 – The first authorized women members join the House of Deputies.
·         1974 – The first eleven women are ordained to the priesthood in Philadelphia.
·         1976 – General Convention approves the ordination of women.
·         1977 – Pauli Murray is ordained the first African American woman priest.
·         1989 – Barbara Harris is consecrated the first woman bishop in the Anglican Communion.
·         2006 – Katharine Jefferts Schori s elected the 26th Presiding Bishop, the first and only woman to be a church-wide leader in the Anglican Communion
With this strong framework of justice underpinning my beliefs, I can only celebrate as now, into my adult life come the years of our Episcopal Church leading the way on equality for those of all sexual-orientation and identity.
·         2009 – General Convention charges the Standing Commission on Liturgy and Music to develop theological and liturgical resources for same-sex blessing.
·         2012 – The Episcopal Church approves the trial use of an official liturgy to bless same-sex couples and their unions, called "The Witnessing and Blessing of a Lifelong Covenant."
·         2018 – General Convention grants local clergy (not Bishops) canonical authority over use of trial liturgies for same-sex couples, "…ensuring that liturgies for marriage of same-sex couples can be used as widely as possible" until a new edition of the Book of Common Prayer is published.
I am proud to be a member of Grace Church, a parish that is an active part of the national Episcopal Church, a supporter and advocate of equality, and the place I call home.
·         June 2019 – Grace Church participates for the first time in the Up North Pride Picnic and March, living out the message that all are welcome at our church.